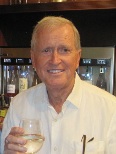 Bert Whitt
Advisor to the Board of Directors
Prior to moving to Key West in 1994, Bert's career in education was based in Baltimore County, Maryland.  His first seven years were spent as a business education teacher and department chairman in the public schools.  Following this was a short stint as professor and head of the department of business administration at Catonsville Community College.  Bert holds B.S. and M.A. degrees from East Carolina University and numerous post graduate credits in the area of adult education.
The last twenty-four years of Bert's career were spent in adult education where he served as a supervisor and the director of a program that had a yearly enrollment of approximately 29,000 part-time students meeting in twenty centers and taught by more than 700 teachers.  Bert was also a part-time instructor in the adult education graduate programs in a number of Baltimore area universities.
Since making Key West his home, Bert has been actively involved in the arts and history of the island.  Upon his arrival and until recently, he served as tour guide and curator at the Truman Little White House.  He is a former board member of the Key West Art and Historical Society.
Bert has been a member of the Waterfront Playhouse Board of Directors since 2006 and served as vice president of operations during his first three years.
He says that "I love the Waterfront Playhouse and the high quality of theater it offers to the public. It's an honor and pleasure to work with other board members and an outstanding staff who consistently create on-stage magic."