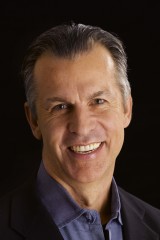 Jeff Johnson
President of the Board of Directors
It took years of planning, but Jeff finally moved to Key West in October 2010.
Following a successful career in New York advertising, Jeff continued his penchant for telling other people what to do and wrote the self-help book, The Hourglass Solution: A Boomer's Guide to the Rest of Your Life (published by Da Capo/Perseus in 2009).  He is currently writing Short Answers (a national online personal advice column that also appears in newspapers in Florida, New York, Massachusetts and South Carolina).
Jeff's love of the theater began early as a musical comedy actor in high school and college and, later on, as the director of such shows as Company, She Loves Me and Pajama Game (that was a long time ago – so don't ask when).
Jeff received a bachelor's degree in Psychology from Williams College and a Master's and Doctorate in Psychology from New York University.
His latest book, Things Your Dog Doesn't Want You to Know (co-authored with his partner, Hy Conrad), will be released by SourceBooks in April 2012 and is dedicated to the Florida Keys SPCA..