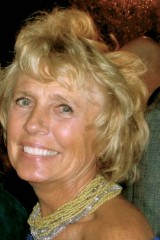 Lynda Frechette
Member of the Board
As a child growing up in Cleveland, Ohio, my parents made sure my brother and I were kept very busy.  Every day after school we had a lesson.  There we were, Eddie and Lynda, brother-sister pair…heading for tap class, acting and singing lessons, art school, piano lessons, and roller skating at least three times a week!  So began my love for the Arts and the Stage!!!!
In high school, I performed at all assemblies and had major parts in all the school shows, serving as President of the Drama Club.  I recall Sr. Regis asking me if I planned to "dance my life away."  Little did she know that I did!!!
A theater major/art minor at OSU, I gave up any thoughts of a "career" when I met my dashing husband, Bob as a freshman.  However, all those classes I took 'way back when' helped me a lot, when I ended up teaching first grade and art!!!!  My students all learned showtunes from me!
A true lover of the Arts, moving to Key West was the perfect place to get involved with theater.  Only in Key West could I have had the chance to "perform" live, onstage, with the likes of Christopher Peterson, Bobby Nesbitt, Bruce Moore, Randy Roberts, and the Key West POPS…not to mention my mini but memorable walk-ons with the Waterfront Playhouse!
My main involvement has been "offstage" as a proud Board Member of the esteemed Waterfront Playhouse for seven years.  Continually voted best professional theater in Florida, I like to think that in my small way, I am making a positive contribution to its great and well-deserved success!