"Hand to God" Rocks Waterfront Playhouse (Keys Weekly)
In the quiet and devout town of Cypress, Texas, strong things are happening in a church basement.  Pastor Greg has asked Margery to head the church's puppet ministry. The pastor's hope is that this recently widowed mother will overcome her grief through a puppet ministry, which instills good values in young parishioners.  The class includes Jason, Margery's troubled son; Jessica, the girl next door who Jason has a crush one; and Timmy, a bully of the first order. However, all hell breaks loose when Jason's puppet, Tyrone, takes on a shocking and devilishly funny life of its own.  Spectacularly foul-mouthed, Tyrone creates chaos with his scandalous insinuations, exposing the characters' deepest secrets. Then thing go really bad.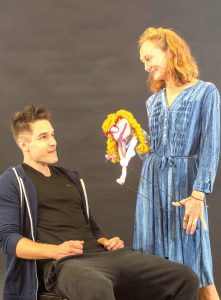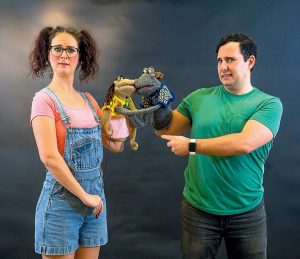 "Hand to God" was written by Robert Askins and was a smash Broadway hit, running for almost two years. It was the most-produced play in regional theaters during the 2016/17 season, and now the Waterfront presents this fast-paced, wickedly delightful play.
"Hand to God" is not for the faint of heart, as it raucously explores the fragile nature of faith, morality and family. The New York Times in a rave review said, "What makes the play so sneakily resonant is how Mr. Askins exposes the base impulses, the sexual, self-destructive, potentially violent ones, that just about everyone harbors to some small degree." There is adult language and situations, and even though there are puppets, it is definitely not for kids.
"Hand to God" will be directed by Murphy Davis, who said, "I was blown away by this play when I saw it on Broadway. Besides being very funny, the play was so powerful and resonant. And what could be more fun than an epic battle between good and evil that takes place in a church basement."
The cast features a first-rate lineup of actors: Equity actor Jeremy Zoma ("Avenue Q" & "Forever Plaid") as Jason; Nicole Nurenberg ("Enchanted April" & "August: Osage County") as Margery; Jessica Miano Kruel ("Trip to Bountiful" & "The Producers") as Jessica; Michael Castellano ("Good People" & "Cock") as Pastor Greg and Cody Borah, who will be making his debut at the Waterfront, as Timmy.
The Waterfront's scenic designer will create the church basement set, as well as other locations. Guest designer Kim Hanson will create the evocative lighting. Ben Pegg will design the sound, Leigh Hooten is in charge of costumes, Carmen Rodriguez is the props mistress and Caroline Taylor acts as stage manager.
Tickets are $50 and are available at www.waterfrontplayhouse.org or at 305-294-5015. All performances are at 8 p.m. Memberships, subscriptions and gift certificates are available at the theater's website. Also, check out the Friday Night Date Night deal, as well as other discounts on the website. The 2017/18 season is sponsored by Royal Furniture, Wodu Media and Digital Island Media. ¦