Young Frankenstein, The Musical: Sneak Preview Pictures
YOUNG FRANKENSTEIN THE MUSICAL opens at the Waterfront Playhouse Contact: Tom Thayer, Managing Artistic Director 305-294-5017 watefrontplayhouse.org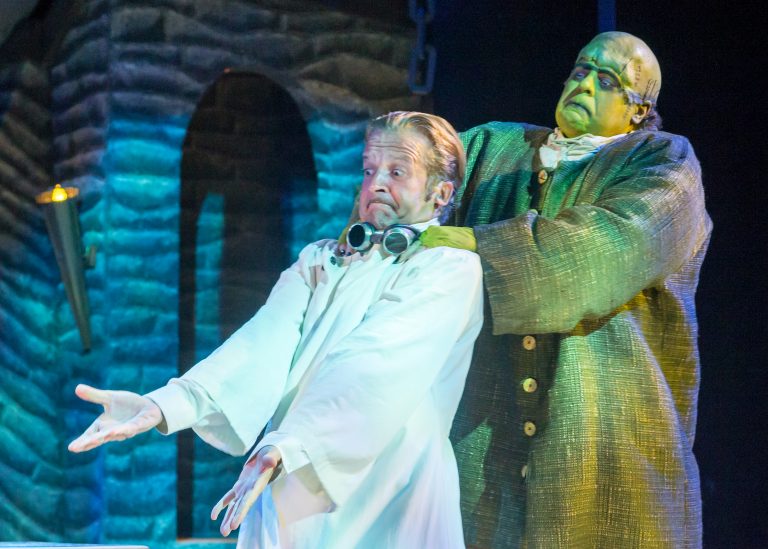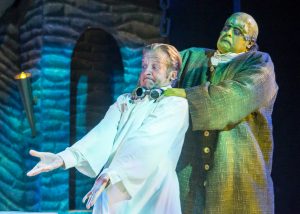 IT'S ALIVE! Audiences have been screaming that line since the famous Mel Brooks/ Gene Wilder movie, Young Frankenstein, opened to critical and box office
acclaim in 1974. Flash forward a few years, add a few songs including the Irving Berlin hit "Puttin' On the Ritz", a cast of 14, a live band, direction by Artistic Director Tom Thayer, Set Design by Michael Boyer, Lighting Design by Kim Hanson, Music Direction by Michael Fauss, Choreography by Penny Leto and Carolyn Cooper and you have YOUNG FRANKENSTEIN THE MUSICAL! Young Frankenstein the Musical will have its grand Opening on February 28, featuring an after party in the sculpture garden sponsored by Royal Furniture and will play Tuesday through Saturdays until March 23. Discounted previews are
February 26 and 27. For tickets call 305-294-5015 or visit waterfrontplayhouse.org.
This wild romp of a musical takes us back and forth from Translyvania to New York, as Dr. Frederick Frankenstein, that's Fronk-en-steen to you, finds he has inherited the family business. Cue boats, trains and even a hay ride to take us to that infamous laboratory where the Monster is born! With the help of a hunchbacked sidekick, Igor, pronounced eye-gore and a leggy lab assistant, Frederick finds himself in the shoes of his ancestors.
The cast includes:
Alan Gillespie (Peter and the Starcatcher) as Dr. Frederick Frankenstein, Jeffrey Harwell (1776) as Igor, Kristen Michelle (Avenue Q) as Elizabeth Benning, Belle
Jampol (The Spectrelles) as Inga, Marjorie Paul-Shook (It's Only a Play) as Frau Blucher, John McDonald (Peter and the Starcatcher) as Inspector Kemp, Jack
Agnew (1776) as the Hermit, Mathias Maloff (1776) as Ziggy, Ross Pipkin (Peter and the Starcatcher) as The Monster and Braeden Garrett, DJ Mills, Lauren
Thompson, Jackie Madejski and Halley Daigle fill out the cast. Every bit as relevant to audience members who will remember the original as it will be to newcomers, Young Frankenstein has all the panache of a screen sensation with a little extra theatrical flair added!